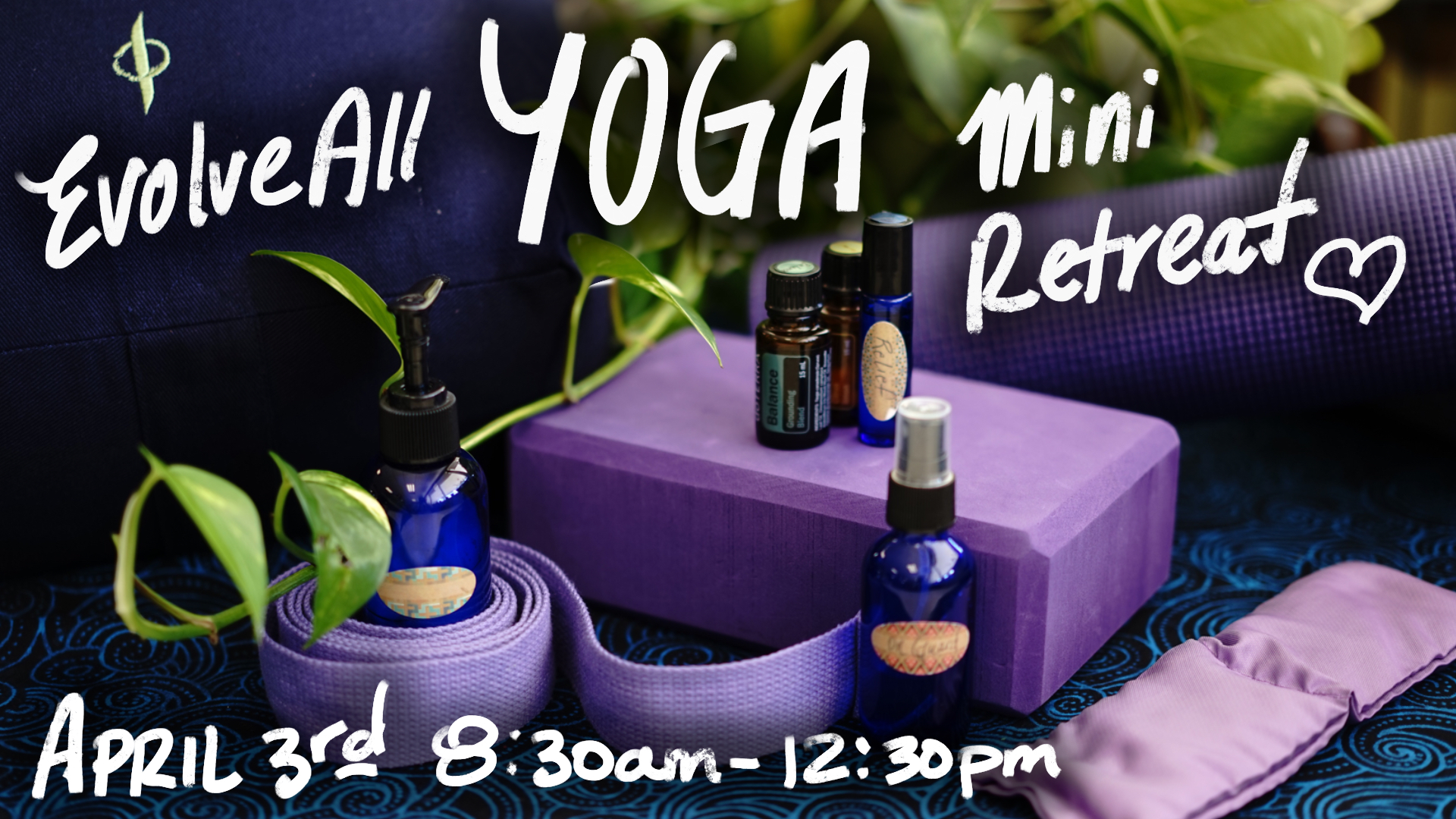 A retreat for all levels, no experience necessary.
Come join Sarah and Jen for a mini yoga retreat, right here in the EvolveAll studio, and meet our two new instructors, Dana Cook and Paula Alcorn!
Begin your day with clear focus and a gentle yoga warmup, deepen your knowledge of foundational poses, and make a custom aromatherapy essential oil blend to take home along with your own eye pillow.
Then cultivate your calm with a gentle and restorative practice, relax and enjoy fresh-made smoothies and good company.
EvolveAll Yoga Mini Retreat
April 3rd, 8:30am – 12:30pm
$55 for non-members
$44 for members
maximum participants – 30
Participants take home:
1oz spritzer bottle with personal oil blend in distilled water
Eye pillow
Smoothie
Peace
Schedule:
8:30 – 9:15 Welcome, Personal Vision Board Creation, Introductions
9:15 – 9:45 Opening Yoga Practice lead by Dana
9:45 – 10am Two Pose Breakdown: Tadasana (mountain) & Uttanasana (forward fold)
10:00 – 10:35 Aromatherapy Oil Blending (create mat spray, body spritz, or eye pillow spritzer)
10:35 – 10:50 Two Pose Breakdown: Utkatasana (chair) & Adho Mukha Savasana (down dog)
10:50 – 11am Break
11:00 – Noon Sosei Class lead by Jen, Sarah and Paula including long (10-12 minute) savasana with meditation
12:00 – 12:30 Smoothies and socializing
To reserve a spot please respond to this email, let us know by phone, or tell us when you drop by.