Instructor Interview
Gina Tune
It's time to get to know our Women-Only Fitness Kickboxing coach, Gina Tune! Find out about how Gina got started, what else she does to stay fit and have fun, and her passion for singing.
You teach the women's kickboxing class at EvolveAll which has recently expanded to offerings on Monday and Wednesday nights. What do you think draws women to the class?
I think the Women's kickboxing class draws in women because we have created a fun environment where women can learn skills that will help them be confident in their abilities to take care of themselves and better understand their surroundings. It is a safe space without judgment that is great for beginners as well as seasoned vets! We laugh and cheer each other on and keep it a very friendly and inviting environment!
How did you get interested in kickboxing?
I began learning to defend myself about 6 years ago when I was chased at night by a stranger. I instantly started looking for self-defense programs and Brian Samson began teaching me self-defense through boxing. When Brian joined the EvolveAll team, I followed him and quickly joined the striking program. I fell in love with not only the people and exercise, but the security I felt in myself. I quickly lost my insecurities about walking to my car by myself or having to go places alone. I found that I was confident in my abilities to defend myself and had the desire to help others have the same confidence in themselves. It is also a great way to relieve stress. Nothing like punching something or someone to relieve the day's anxieties.
In addition to leading our women's kickboxing program, you're also a personal trainer, run one of our Fitness Bootcamp classes, and participate in Brazilian Jiu-Jitsu. What motivates you both be active yourself and share that with others?
I became a body builder about 10 years ago as a way to lose weight after childbirth. It quickly grew into an obsession and then became my way of releasing stress and growing confidence. I love having strength and seeing how much growing muscle helps people. I began studying it and started working with older family members to ensure muscle around bones that were becoming brittle.
After joining the striking program at EA, I began taking BJJ and fell in love with the puzzle that it brings! It was a different kind of exercise that I was not expecting as it worked my brain more than my body. I feel like all of the different sports I do bring something different to my life! Striking takes away my anxiety, BJJ is my brain workout and helps me through my fears, body building makes me feel in control of my health and body and Tai Chi keeps me centered! It is an honor and privilege to get to teach the women's striking and jiujitsu programs at EvovleAll and share my love of both sports with the women of Arlington.
Tell us a bit about your background. Where are you from? What are you passionate about?
I was born in Wisconsin and went to college in Kentucky. I have degrees in singing, acting and dancing, as well as my certification in personal training. I teach voice lessons out of my home studio (or virtually) and absolutely love it. (I am currently taking new students 🙂 ) I am very passionate about singing (you can find me on YouTube and all streaming platforms- just search Gina Tune) and love helping others find their musical passion as well. I also play guitar and have multiple small businesses that I work on daily both in the digital space and creating and selling plushy backpacks!
What else do you like to do for fun?
I don't have a whole lot of time outside of my many activities, but I do love to read, watch horror movies and play games, as well as go to wineries on beautiful fall days!
This year, we're celebrating 15 years of EvolveAll. What does this community mean to you?
I have loved being a part of the EA community for the past 5 years. I have made so many close friends and always feel welcome and appreciated when I'm there. When I walk through the doors, a calm washes over me that I absolutely crave. It has a healing energy that brings me back almost every day! You can see the smiles on the faces of all of the members and everyone understands that it is a special place with positive vibes and good energy. I am so happy that I found EA and that they allow me to help grow the community and add my own energy into the mix!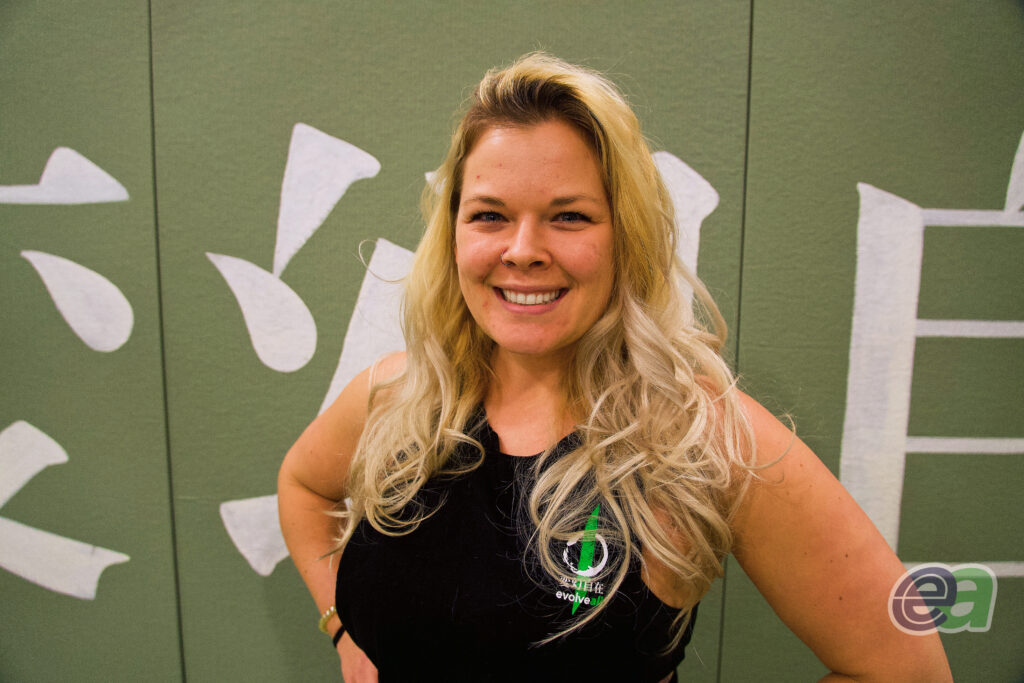 Gina Tune
Fitness and MMA Coach
7 day all access trials available for new members
Trials activate on the first class attendance, and last for 7 days. During which you have access to all of the classes on the schedule that are age appropriate. The cost of the trail wil go towards your first month of membership. Please let us know what day you plan on coming in!
Sign up for a trial
Check out our Women's Brazilian Jiu Jitsu Program!
Explore the grapping side of martial arts in this women only class.
Learn More